Redesigning your kitchen? Here are 5 questions you should ask yourself first
Sponsored By
---
Sponsored By
Redesigning your kitchen seems like an intimidating project, but it can actually be quite simple if you have the right steps in place. So, we asked the experts where to start first.
When it comes to planning a new kitchen (or redesigning one), the trick is finding a balance between inspiration and functionality – allowing you to have a dream space that best serves your needs. 
So, naturally, when it comes to choosing the best design for your dream kitchen, the process involves a bit of both – something that the experts at Eco Interiors specialise in.
The kitchen design company has an experienced and personable team, who help guide customers through the entire process from planning to installation.
So, we asked their expert-led team to share key insights and helpful advice for the kitchen design process. To get you started, they recommend asking yourself these five questions and reviewing the answers with your kitchen planner.
What size is your space?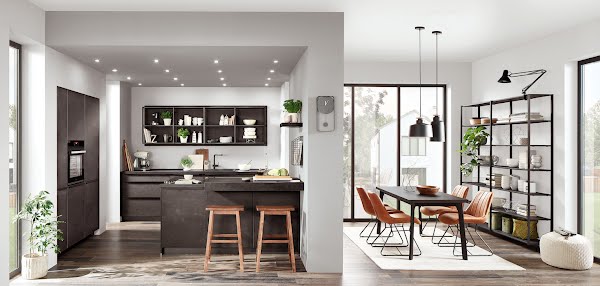 Eco Interiors
"This is the first thing we typically ask our customers, so we know how much space we have to work with," says Joe, owner of Eco Interiors. "It also gives us some insight into what storage options and budget will be needed to complete the design process.
"If you have a smaller space, then we will need to consider clever storage solutions like a pull-out pantry and corner cupboards with carousels, to keep things from looking cluttered. While a larger kitchen will have more worktop space for appliances, display shelves, etc."
What purpose will your kitchen serve?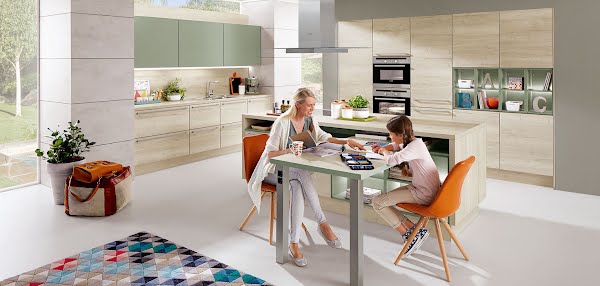 "Most people look on Pinterest or Instagram to figure out what colour schemes or style they like, but when it comes to the actual design, we ask people to come to us for our expertise so they don't get bogged down in the details," explains Joe.
He recommends that people start by assessing what they will need from their kitchen. Will it simply serve as a cooking area or will it be a multifunctional space used for family dinners and entertainment? Do you need more worktop space or more storage? 
"Once we know all this, then we can start creating a kitchen design around your needs," he says. "And we can discuss bigger ticket installations to plan around like a steam oven, a downdraft hob on the island or a wine fridge." 
How much storage will you need?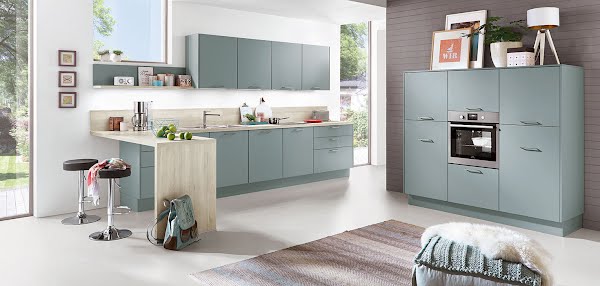 Eco Interiors
Storage is a major factor in designing your kitchen, and there's a range of ways to approach it from discreet pull-out drawers to open, display shelves. "Storage is especially important for smaller households that maybe have a few children," says Joe. "We have some really great storage options that people can utilise and build into their design too.
"With storage, it's a lot better to have things that come to you rather than you having to go to it, that way you can see what you have and nothing goes to waste. For instance, a lot of our customers are glad they went with a pantry unit with internal pull-outs rather than a shelving unit because then they can see everything all the time, rather than forgetting about produce in the back.
"However, shelving units tend to work better for crockery and storing large items like that. So, it's really about asking yourself how much storage you'll need and what items you'll need it for." 
Is a kitchen island the right fit for you?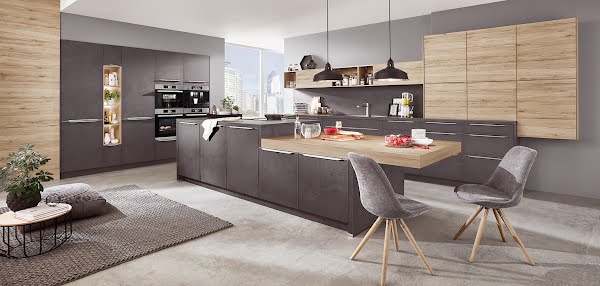 When deciding if a kitchen island is the best choice, the team at Eco Interiors usually takes their customers through a list of pros and cons. 
"If you have a big family and a big home, then an island is certainly a benefit because it does end up being a social, multi-purpose place where children have their breakfast and parents can prepare lunches. In those ways, a kitchen island becomes a hub for family life and for socialising with friends.
"For smaller households, functionality becomes the priority then, so a larder design is a great choice for extra storage and is an efficient use of space."
How will lighting best compliment the space?

Most people forget to prioritise lighting when planning their kitchen design, often underestimating how much it can affect both the space's function and aesthetic. 
"Lighting is so important, especially on the underside of your wall unit," says Joe. "It helps you see what you're doing on your worktop when you're prepping meals, and it helps create ambience in the evening, if you don't want the main lights on. 
"It's one of those things you don't realise you need until you don't have it. And it's certainly something that people don't necessarily think about, so we always recommend under cabinet lighting to all our customers."
---
Eco Interiors is an established kitchen design company with two bright and airy showrooms in Dublin with lots of space for browsing. They have kitchens to suit every budget and all tastes and their team is second to none, looking after customers online and conducting Zoom presentations where required. They can also invite customers into their state of the art 3D cinema rooms, for a more immersive experience into their new kitchen design.