These are the most popular Halloween costumes for 2021, according to Google and Ebay
From zeitgeisty Netflix-inspired ideas to classic horror options, these are the most popular Halloween costumes for 2021.
---

Are you ready for the spooky weekend ahead? To be honest, us neither, costume and facepaint and ticketing all sounds like a lot of work… maybe too much work. But clearly some people have parties to attend and costumes to make because "Halloween costumes" has been a popular search term these last few days – probably with panicked parents furiously trying to pull something together from bits of paper and an old pair of tights. 
So what can we expect adults and little ones to be donning this All Hallow's Eve?
According to Google, most people are keeping it traditional, with "witch costume" being the most popular search term in the US (unfortunately, Google is not providing data for outside the US).
The surprise additions to this list? Rabbit comes in at number two and I have no idea where that influence came from, but I guess it's cute and fluffy and maybe lots of people got rabbits as pets over lockdown and want to emulate their furry pals?
You can see the full list below, but more zeitgeisty is Ebay.ie's costume list, opening with a cultural current take on proceedings of Squid Game at the top. The other Netflix phenomenon Money Heist and its creepy Salvador Dali masks is in second place. 
There was some overlap between the two lists however, with Cruella DeVille, – revived thanks to Emma Stone's latest incarnation but really you have to go as the OG Glenn Close, right? – Harley Quinn, seemingly a regular on these Halloween lists, and Spiderman all featuring on both.
So don't be surprised if two kids on your street come dressed as the flying arachnoid superhero, just make sure to tell them they are the best one even if it's just a pair of well-washed pyjamas and some of their mom's red lipstick smeared across their face, okay?
And if it's a pair of adults, maybe suggest they team up and go as that meme instead, just circling and pointing at one another on the dancefloor. Classic and yet culturally modern – a win-win.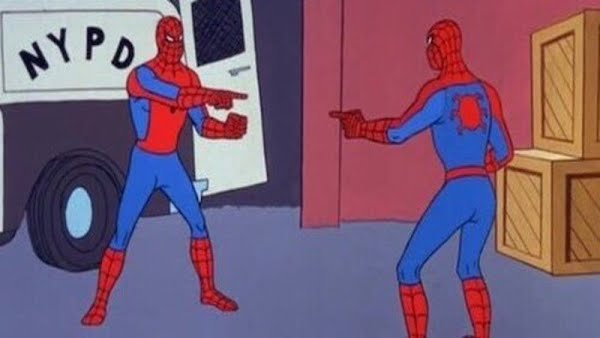 Most search 2021 Halloween costumes on Google:
Witch

Rabbit

Dinosaur

Spider-Man

Cruella de Vil

Fairy

Harley Quinn

Cowboy

Clown

Chucky

Most-searched 2021 Halloween costumes on Ebay.ie:
Squid Game

Cruella De Ville

Money Heist

Harley Quinn

The Joker

Pennywise

Wonder Woman

Harry Potter

Hocus Pocus

Spiderman