The expert guide to your hair problems, from thinning hair to heat damage
---
While our hair may be getting more rest than ever – from overstyling, heat and chemicals – we seem to be notching up more and more bad hair days regardless. Melanie Morris talks to an expert panel of hair professionals to get a full toolkit of solutions.
OUR PANEL
SARAH MASON, owner, Sarah Mason Professional, Galway
Sarah is twice former Irish Hairdresser of the Year, she won gold at the Wella TrendVision Ireland in 2017, and is a guest artist with Appassionata and Wella Professional.
KAREN FRAHER, owner, The Hive, Dame Lane, Dublin 2
Karen is a Wella master colourist who also specialises in fashionable styling, wedding looks and has worked with hair extensions of all types for over 20 years.
DAVID MURRAY, owner, David Murray @21, Drogheda
A multi-award-winning stylist, David has held the Irish Hairdresser of the Year trophy many times. He's also global ambassador for Joico.
THINNING HAIR
Everyone on our panel has seen this on-the-rise issue in the past year. "This is the number one concern I'm hearing from clients at the moment," says Sarah Mason. "Hair loss can occur as a result of stress and anxiety; it's also something that happens to women after childbirth, with age, post-menopause, and as a result of a change in hormones. I've also noticed so many people are on ridiculous crash diets at the moment, and hair loss often comes through the shock this brings to the system, and the lack of essential nutrients."
THE SOLUTION
Sadly, there's no quick fix to this one; it takes three to six months to get hair back growing, so the sooner it's addressed, the better. Sarah Mason: "Use specific products like the Nioxin system and ensure a healthy diet that includes plenty of oily fish, nuts and greens, and supplement with biotin, zinc and iron." Karen Fraher: "I'm also a huge fan of Nioxin; be sure to use the products as directed – they should really be focused on the scalp. For manageability and styling, I recommend clients incorporate their usual conditioner on mid-lengths and ends as an additional step." David Murray: "I advise a three-stage response to this. Firstly, be sure to wash hair properly. The aim is to cleanse the scalp of all debris, sebum and product that might be blocking the pores. Secondly, opt for hair-plumping products like Joico's Joifull shampoo, conditioner and styling balm, which contain rice protein to enhance hair volume. Finally, if necessary, fill out thinning areas, like the sides of the head, with tape extensions. I find these much better than bonds, as they're faster and easier to insert and change, they can be reused, and because of the width of the tapes, the fall of the hair is more natural."
POOR HAIR QUALITY
As with skincare, our scalp and hair need change all the time. Karen Fraher says, "So many of my clients are telling me that products aren't working as they used to, and that's a sign that the hair condition has changed, and we need to rethink our approach." Sarah Mason adds, "We also need to assess what the real problems are. Often, people will treat dry, brittle hair with lots of hydration rather than addressing the need for repair. We need to get forensic and look at the hair's recent history before coming up with an effective solution."
THE SOLUTION
Karen Fraher: "Even though you may think you don't need one, use a treatment weekly, especially if you haven't been to the salon for a while. On application, keep track of time and don't leave it in for too long, as they can strip colour. This will make a real difference to your hair's everyday appearance and manageability." David Murray: "It may sound obvious, but it's essential to know the difference between hair conditioners and hair treatments. Conditioners are a more superficial, cosmetic solution, while I always say to think of your hair as a country road: treatments will fill the potholes and smooth everything out." Sarah Mason: "If salons are closed, we all offer one-to-one online consultations with clients and will happily recommend and send out the best products for your hair's needs.
GOOD HAIR GONE BAD
There are so many things that affect hair colour: our environment the water we wash in, our overall health and diet, and heat styling has a huge impact too. Right now, our hair colour has been challenged like never before. There is also the overwhelming urge to tackle grey regrowth at home. Keeping blondes fresh is always an issue, but when salon visits are as irregular as they have been, it leads to further issues such as dull colour, brassiness and uneven shading."
THE SOLUTION
David Murray: "If you have to home colour, opt for semi-permanent shades, never permanent ones. I also suggest always buying two boxes, the first for a patch test 24 hours in advance of colouring – this is crucial, as a bad chemical response could see you heading for hospital." Karen Fraher: "Purple shampoos are great to help remove brassiness, but approach with caution. Only use them once a week, and perhaps mix in with your regular shampoo to avoid discolouration of the lighter, more porous parts of the hair." David Murray: "The roots of blonde hair is where the main brassiness occurs, so I advise clients to apply or paint the purple shampoo directly onto the root and avoid contact with longer lengths." Sarah Mason: "Color Fresh Mask by Wella is an excellent home toner that comes in 11 shades, from blondes and pastels to caramels and chocolate. They'll also stain grey a little. And always use heat protectant to keep colours as fresh as possible." David Murray: "The temporary spray tints to disguise grey can be messy to use, but they definitely serve a purpose. When applying, I always advise clients to cover the forehead area with masking tape to avoid messy hairlines, and spray from a distance to avoid pools of dark colour." Sarah Mason: "… and opt for a shade lighter than you would usually choose, for a more natural, realistic blend."
David Murray: "Looking forward, hair colouring styles like balayage and root shadows are easier to maintain and a lot more fashionable than full tints and heads of highlights, so perhaps consider a switch-up in that direction."
END-OF-LIFE EXTENSIONS
With a year of rolling lockdowns, hair extensions are staying in for longer than we'd like, and this obviously provides a challenge.
THE SOLUTION
Karen Fraher: "Try not to remove bond extensions yourself. See if a trim will make maintenance easier. Simply comb all the hair forward in front of the face and cut carefully. This is also the time to use those protein or paraben-rich products we usually steer clients away from – they'll soften the extension bonds and some will fall away naturally. If all else fails, salons will send out kits and instructions, so definitely reach out and ask for help." David Murray: "For those with tape extensions, I recommend rubbing hand sanitiser on them to soften the glue for easier removal." Sarah Mason: "I also find that tapes will come away with strong hair conditioner." Karen Fraher: "To make extensions last as long as possible, be sure to brush hair thoroughly, keep hair from matting or tangling at the root, and keep the bonds separated."
DRY AND FRIZZY HAIR
Dry, brittle, frizzy hair is becoming harder to manage the longer we are away from salon help.
THE SOLUTION
David Murray: "Leave-in conditioners are essential. Bring a boar bristle brush into the shower with you, and brush through the hair while it's still wet. Also, remember hair is at its most fragile when wet, so pay special care to towel drying – aim to pat rather than rub the hair, and then go to town on hydrating, frizz-soothing balms."
Photography by Jason Lloyd Evans.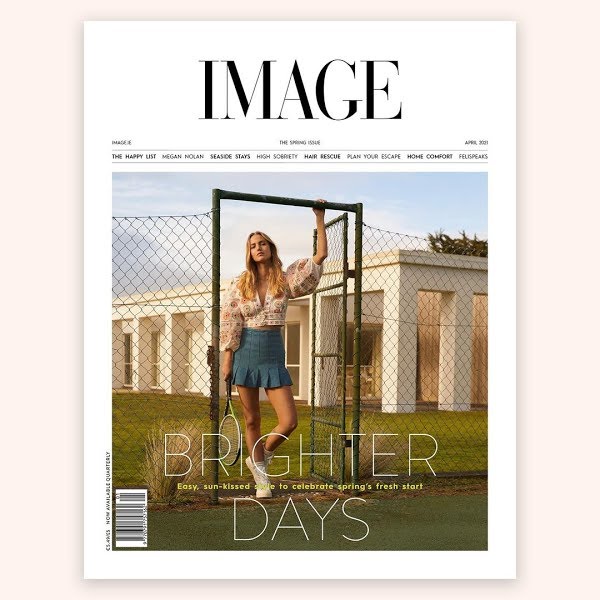 This article originally appeared in the Spring issue of IMAGE Magazine.