The H&M Home Spring 2021 collection is the breath of fresh air we all need right now
---
Get a peek at the H&M Home Spring 2021 collection and our favourite picks from it.
I think "stuffy" might be the word of January 2021. Every stuffy nose has ominous potential, we're stuffed inside our house, unable to move around much and generally stuffed, because there's nothing to do but eat. 
Which is why the new H&M collection could not have come at a better time. Bright, warm, natural and brimming with greenery, it's like a little bit of sunshine on my face, and a reminder that if we know nothing else, spring is most definitely coming.
Take a peek at the collection below and our favourite items for each room. The collection arrives in shops and more importantly online on February 4.
The Living Room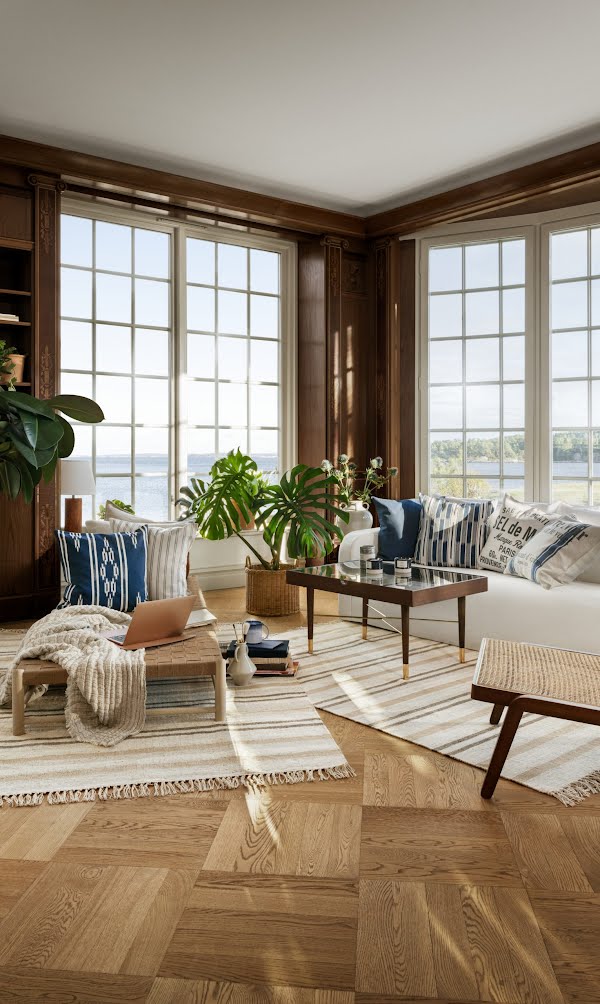 Because our homes have become the centre of our lives, the new H&M collection encapsulates the entire home, from bedrooms and kitchens to living rooms and bathrooms. There's a focus on organic textures and simple, clean designs as a way of awakening our homes for their cosy winter slumber.
Oceanic blues, rough linens and weaves dominate the living room, uplifted by some Mid-Century Modern touches through the Space Age brass feet of the coffee table and Danish-style seating.
The Dining Room
Probably the room that has seen more use than ever lately is the dining room – if you're lucky enough to have one. Previously a dusty room reserved for fancy dinner parties and Christmas Day, it has now become a multi-functional space. An office or schoolroom during the week, a dimly lit restaurant for date night and a relaxing café for brunch and the Sunday papers. It's now an actively used space.
The white folded shade gives a little differentiation to the light, while the blue tablecloth (that can double as a throw) offers a lift in colour. Tableware is muted with a beautiful dimpled effect, creating warmth in your hand that's no doubt helped by the gorgeous wooden serveware.
The Bedroom
The fawn bed linen with a subtle navy strip continues the sea theme without going all-out nautical for the bedroom, where the greenery really comes into its own.
There's a variety of terracotta, porcelain and wicker pots in the new collection, helping to ground plants as though they just sprouted up there.
Finally, the crinkled linen throw brings a softness to the stripes and hard edges of the ceramics in a wonderful creamy coffee colour.
The Bathroom
Who among us has had more baths (or wished you had one) in the last 11 months than ever before? A little bit of alone time where you can shut the bathroom door and pray nobody comes knocking – maybe even bring a book and a nice glass of red?
This new collection features scented and unscented candles for just this moment. A tinned sundried linen scented candle, or a simple pillar candle will do the trick.
A nice bath rack is hard to find of the clean lines of this one means it'll sit as well on a rolltop as it will on a modern tub – all you need to do is ensure it doesn't become cluttered in kids' bath toys.
And finally, not featured here but essential post-bath attire, cream linen shirt and short pyjamas.
See the full collection below and shop it all online from February 4.