Here's what was left out of Prince Harry and Meghan Markle's Oprah interview
---
Buckingham Palace has also officially responded to the interview.
Just a day after the couple sat down with the iconic host and spoke of some explosive revelations, there has been a media storm quite similar to that of Princess Diana's interview with Martin Bashir. Piers Morgan threw a tantrum, walked off live TV and subsequently left, AKA was asked to leave Good Morning Britain, some UK tabloids insisted they "weren't racist"  in their coverage of Markle and then CBS This Morning showed unaired footage from the two-hour interview.
In one segment, Meghan Markle opens up about her estranged father.
In May 2018, a week before their wedding, a story broke that Thomas Markle staged several paparazzi photos. Subsequently, he did not attend the wedding.
Markle said that her father had been targeted by the tabloids for over a year — but that he was not truthful with her about his involvement.
"If we're going to use the word betrayal it's because when I asked him…when we were told by the comms team this is a story that's going to be coming out which, by the way, the tabloids have apparently known for a month or so and decided to hold for a Sunday before our wedding because they wanted to create drama, we called my dad and we asked him and he said 'no, absolutely not'."
"I genuinely can't imagine doing anything to intentionally cause pain to my child", Meghan added, "so it's hard for me to reconcile that."
Her relationship with her half-sister
When asked about her estranged half-sister, who frequently speaks about the duchess to the tabloids and is reportedly writing a "tell-all" book, she told Oprah:
"I think it would be hard to tell all when you don't know me".
"I don't feel comfortable talking about people I don't know. The last time I saw her must have been 18, 19 years ago? She changed her last name back to Markle only when I started dating Harry. So I think that says enough."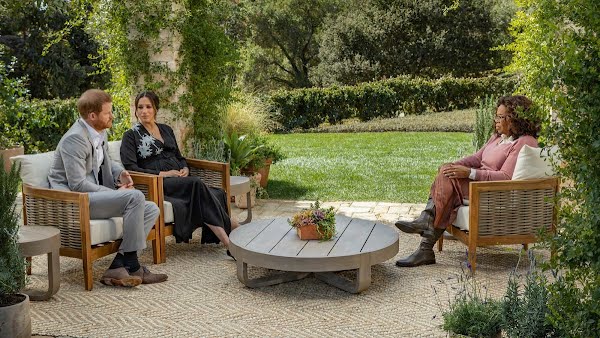 Oprah clarified some comments
Oprah confirmed neither the Queen nor Prince Philip made the comment about Archie's skin colour. Speaking to CBS This Morning, Oprah said neither Harry nor Meghan revealed to her privately who made the comment questioning what colour Archie's skin would be.
"He did not share the identity with me, but he wanted me to make sure that I knew, and if I had an opportunity to share it, that it was not his grandmother nor grandfather that were part of those conversations," Oprah said.
Gayle King also interviewed Oprah Winfrey. When asked why the couple decided to speak to her, she responded: "I think they agreed to do it, wanted to do it, were ready to do it because when you have been lied about for a series of years.…You could understand this if in your own office or in your own family, if people are saying things about you that are untrue, and how hurtful that it is…imagine that over a period of months and years."
Buckingham Palace officially responds to the Oprah interview
A royal response
And now, Buckingham Palace has released a statement on behalf of the Queen in reaction to the topics raised in the interview.
It said: "The whole family is saddened to learn the full extent of how challenging the last few years have been for Harry and Meghan.
"The issues raised, particularly that of race, are concerning. Whilst some recollections may vary, they are taken very seriously and will be addressed by the family privately.
"Harry, Meghan and Archie will always be much loved family members."