Chanel wants you to glow this summer
---
This summer you might not make it too far from your home, but don't worry about missing out on your tan – Chanel have bottled a sun-kissed healthy glow for their new collection, with warm colours for complexion, lips, eyes and nails.
Lucia Pica, Chanel's global creative make-up and colour director has a pretty unique way of finding inspiration for her collections. "I travel to get inspired," she said on a video call. "I go on a trip with a photographer and director, and I create this mood board. Sometimes I'm inspired by one colour so it's a bit more of a conceptual way of working with the collection – the development and the study of this colour and how it shows itself in different textures and shades. Sometimes it's about texture, sometimes it's about the symbols and the codes of the house of Chanel."
Related: Chanel's make-up maverick Lucia Pica shares her key to glowy skin
"This house is full of inspiration and history. You don't only have what Chanel has created. You have this incredible, inspiring woman that was able to change the way women dressed, at that time, who gave them the freedom to come out of the corset and put them in something more comfortable. She was thinking about women in a way that was a bit more functional. That has translated to my collections – I have a strong direction but I'm always thinking about the colours being wearable for women. I use bright colours but I use textures that are easy to blend so there is a sense of wearability. If somebody is afraid of using colour there is the opportunity to water it down a little bit to make it softer so that they can introduce it into their life."
From the nail colours to the shimmering eyeshadow palette, this collection is certainly wearable; especially the three products created for glowing, summer skin.
Les Beiges Healthy Glow Bronzing Cream, €43
If you've yet to try this iconic cream bronzer from Chanel, the best way that I can describe it to you is that it's like sunlight on skin. It's lightweight, soft and a gel-cream texture that melts into and becomes one with the skin for a natural bronze effect that is so good, you can actually justifying ruining the perfect swirl of the untouched bronzer.
Les Beiges Healthy Glow Sheer Highlighting Fluid, €43
Grey-faced from being stuck at home since March? The Healthy Glow Sheer Highlighting Fluid will brighten your skin like a ray of sunshine. It gives a lit-from-within radiance that looks fresh – like you've spent all your days quarantining outdoors.
Les Beiges Healthy Glow Illuminating Powder, €57
I know you don't want to ruin this perfect rope detailing, but when you do, it will be worth it; Healthy Glow Illuminating Powder will warm you right up with an ultra-fine glimmer that gives radiance to the skin.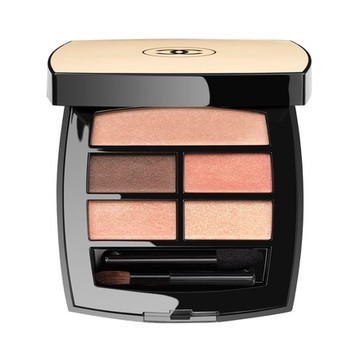 Les Beiges Healthy Glow Natural Eyeshadow Palette, €51
The collection also includes the Healthy Glow Natural Eyeshadow Palette, €51, with five warm and radiant shimmering sunshine shades.
Les Beiges Healthy Glow Lip Balm, €36
There's a Healthy Glow Lip Balm, €36, in Warm Coral, a sheer and melting balm that nourishes the lips with emollients while leaving a dewy stain behind as if you've just finished an ice-pop. There are also two new summer nail varnishes – a favourite every summer on Instagram – so you can shine down to your fingertips; Cruise, a vibrant coral, and Sailor, a pink coral, €25 each, that "bring to mind a sun-drenched apricot or sugary raspberry."
Les Beiges Les Vernis in Cruise and Sailor, €25
Photography by Chanel.
Read more: Chanel's make-up maverick Lucia Pica shares her key to glowy skin
Read more: The €33 cult-hero French multi-purpose oil that adds a glossy sheen to everything

Read more: Scent your way to summer holidays with location-inspired perfumes