---
Work Rest Slay is a monthly podcast hosted by our contributing editor Melanie Morris, who speaks to some of the most compelling Irish and international people in business, spilling the truth on the real secret sauce for a successful career.
Our next business podcast in the series launches on Saturday, September 3, 2022, and features Gráinne Mullins — award-winning pastry chef and founder of Galway-based confectionery Grá Chocolates.
Work Rest Slay: Episode 13
In conversation with Melanie Morris, Gráinne shares her journey from her homemade kitchen in her parent's back garden to the artisan confectionery she has built Grá Chocolates into today – a road that involved tuning into her skillset, finding lessons in adversity and building a supportive community around her.
Coming together as a community
Through Gráinne's hard work and determination, Grá Chocolates has soared over the past two years, but she humbly doesn't take the credit on her own. She praises her family and her Galway community for helping her get on her feet.
"When my parents saw how busy we were with the orders, they gave me their little kiln my dad used to import wood and transformed their shed into a chocolate factory. Well, after some toing and froing they agreed," Gráinne laughed.
"And all of my neighbours helped – one is a plumber, one is an electrician, one is a tiler and my dad is a carpenter. All of them came together and in less than a month, they had built a chocolate factory for me in the back garden."
Enjoying the journey
Like all entrepreneurs, the road hasn't been easy for the chocolatier, but in true Irish fashion, she's learned to find joy in the small lessons that hardships bring.
"I suppose it's a matter of getting the jobs done when we can and taking the journey rather than being stressed and overwhelmed, which of course happens; don't get me wrong. There are times when I'm so tired and I'm just like: 'Okay, I need to hide away and cook myself a nice dinner, go for a walk and chill out.'
"But the majority of the time, it's just riding the wave and really enjoying one step [at a time] and taking every opportunity that comes your way because you might only be offered the chance once."
Recognising your skillset
If she could give one piece of advice, it would be to recognise your skillset and play to your strengths, as well as recognise your weaknesses.
"With jobs that I don't like, I know someone else will enjoy them, like invoicing. I could leave an invoice too long, which I shouldn't be doing (there should be no delay on that). So now I can pass that to someone who is really on the ball that won't let an invoice pass and then it goes smoothly.
"It is about recognising your sore points and then recognising the points in your skillset where they lie. Give a lot of focus to the jobs you love doing because you're going to do them 100 per cent, and give someone else the job you don't like doing."
For more on Gráinne's career journey, listen to the newest episode of Work Rest Slay below:
Gráinne Mullins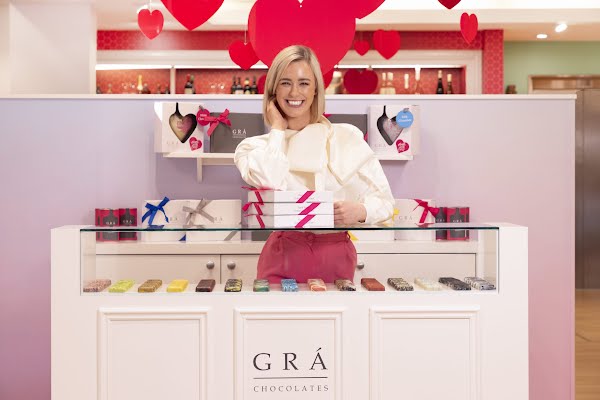 Luxurious and decadent, Grá Chocolates are exquisite artisan confections made with love in county Galway. Created and crafted in small batches by award-winning pastry chef, Gráinne Mullins, each exquisite chocolate is meticulously made and painted by hand. Combining the finest raw ingredients with native Irish flavours, it's time to experience the pure taste of happiness.
The genesis for Grá Chocolates is Gráinne Mullins, a pastry chef with over ten years of experience in high-level, fine-dining establishments. Gráinne is the current holder of the Eurotoques Young Chef of the Year title and has amassed over 20,000 social media followers for her chocolate and dessert designs. The innovative, responsive and stylish chef has a huge audience and fan base in Ireland, the EU and beyond. This has already proven to be a very important show window to her market, and she has been consistently posting about her chocolate creations, generating a pre-launch buzz for when and where followers can buy her product. High-worth followers such as Neven Maguire, JP MacMahon and Jess Murphy are all endorsing her chocolate's unique eye-catching design and delicious fillings.
With her insight, talent and knowledge of the food industry, supported by industry mentors such as Nigel Murray from Gran Gran's Artisan Foods, Gráinne is in a unique position to source the best local Irish ingredients while embracing her ethos of showcasing fantastic local producers, such as Sliabh Aughty Honey and Achill Island Sea Salt. Using local produce not only supports other local businesses but anchors the USP of the brand and reduces travel miles, all of which is in keeping with the company's ethos.
Great family cooking was a part of Gráinne Mullins' childhood, and she grew up in Galway with a love and respect for good food. Setting foot in a commercial kitchen as a teenager only deepened her connection with food, and she began working part-time in the pastry section of five-star hotels. Interrupting a science degree to move to France, she spent two years working in a Michelin-starred restaurant in Aix-en-Provence. Cooking won out over science, with Gráinne following her heart. Returning home to work in pastry in many of Ireland's leading kitchens, the self-taught chef was the winner of the prestigious 2019 Euro-Toques Young Chef of the Year. Channelling the skills, artistry and joy she has learned from some of the country's most talented chefs, Gráinne founded Grá Chocolates in her hometown of Kilchreest in 2020.