Patricia Field won't return for 'SATC' reboot, but a well-timed Instagram post suggests there's more to it
---
Patricia Field won't return for the 'Sex and the City' reboot but Kim Cattrall's well-timed Instagram post suggests it's about more than just scheduling conflicts.
There are many reasons to be excited for the highly-anticipated Sex and the City reboot, though some may say there are just as many not to be too. Our hearts have been broken on more occasions than one and the show isn't even out yet! 
First, it was revealed that Kim Catrall wouldn't reprise her role as Samantha Jones. Then there was the question of whether Aidan and Mr Big would feature (more on that later). And now, Patricia Field, the series' legendary costume designer, has confirmed that she won't be involved in the reboot either. 
She says it's down to scheduling conflicts, but we suspect otherwise… our drama-o-meter senses that there may be trouble brewing under the surface. Of course, we're just reading between the lines here, but Kim Cattrall's Instagram feed tells us that there may be more to the story than anyone is letting on. 
Speaking to WWD on the matter, Field said that she was otherwise engaged, telling reporters "the main reason was a time conflict". Over in the French capital at the moment, the stylist is busy working on season two of Emily in Paris. Commenting that it wouldn't be possible to commit to both projects, she went on to say, "I wasn't able to be in New York doing that [SATC] and be in Paris doing Emily in Paris. 
"But I told them to call my very dear friend Molly Rogers, who also worked in my store back in the day. She did Sex and the City with me from start to finish. She knew it well, so she's doing it. My dance card was full," she said. 
I mean, that all makes sense. No one – not even Patricia Field – can be in two places at once, so logistically, we can certainly see where she's coming from. That being said, I still think there's more to her decision than that… especially given the timing of Kim Cattrall's recent Instagram post. Sharing a photo of herself and Field together, Cattrall captioned the candid snap "Me and @patriciafield A dear friend & confidant."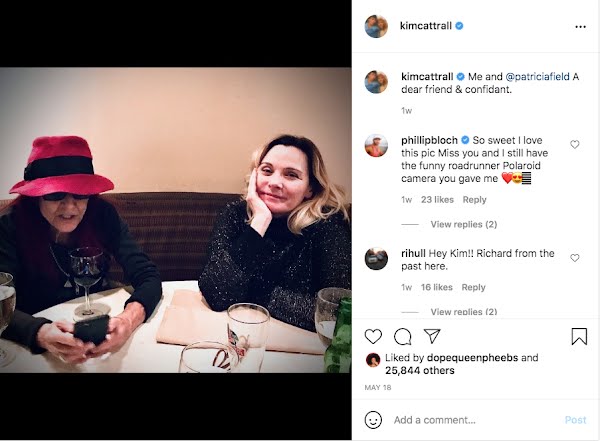 Maybe you think that's innocent enough on the surface, but closer inspection says otherwise. Consider the rumours surrounding Cattrall's own absence from the reboot for a moment. Producers will have you believe it's to reflect the "actual stages of life" which often see friends drift apart. The gossip mill thinks it's because of a supposed ongoing feud between her and SJP. 
Samantha may be expendable (not in my eyes!), but you couldn't really have a SATC reboot without the main protagonist. Is Field using Emily in Paris as a well-timed cover up for the fact that she's Team Kim? I'll let you make your own conclusions. 
As for Carrie's former flames Aidan and Mr Big? Turns out there might be good news on both fronts. John Corbett (aka everyone's favourite onscreen carpenter) hinted that he would be back, offering up a vague "I think I might be in quite a few" when questioned on how many episodes he'll feature in. Chris Noth is also believed to be returning… at least according to The Daily Mail who reported that a senior production source told them "viewers will definitely see Big, Aidan and Steve."
Feature image via @patriciafield