Welcome to the best of Hollywood's spooky, elaborate and freak-tacular ensembles
Every Halloween is the same. I wake up to the children's favourite gag; 'Take off your mask, Mummy, it isn't time to trick or treat just yet'.
Cute. (Not really.)
But one thing we can agree on is that Halloween beats Christmas, hands down. In this family we go all out; the flour-with-the-grape-on-top game, bobbing for apples, snap apple and the best of all – turn off the lights and try feel who is who. We have a monster mash kitchen disco to get us all revved up – even the dog partakes.
But as elaborate as our attack on Halloween goes, it dims in comparison to some of our favourite Hollywood celebrities. It's evolved over the years to become their own personal Met Gala  – images of impressive costumes and harvest displays rolled out on Instagram for our pleasure.
And boy are they good this year. We've collated the best and freakiest of 2021.
Kendal Jenner
I know, I know. If I had all the money in the world I'd just pay for someone to create a custom show-stopping gown. The Kardashians are my kind of people when it comes to Halloween. More is more.
Ryan Seacrest and Kelly Rippa
King of Hollywood Ryan Seacrest melts our hearts with his impression of Ted Lasso while his co-host Kelly channels Bridgerton's Daphne.
Lizzo
The singer goes StarWar Spectacular with her rendition of baby Yoda. Love it we do.
Heidi Klum
It's fair to say that nobody does Halloween as well as Supermodel and fashionista Heidi Klum. In fact HeidiHalloween even has it's own hashtag. This year, our gregarious German didn't just wear one of her costumes, she created an entire short horror movie. Watch, freak out, love.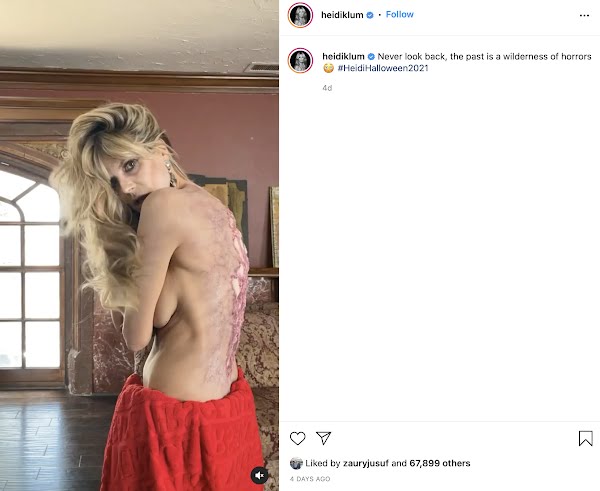 Vogue Williams
Flying the Irish flag in this year's Halloween extravaganza is fitness fanatic Vogue Williams who pulled out all the stops to try and convince us she's not as stunning as we think. Unconvincing but top marks for effort.
Reece Witherspoon
The Morning Show hostess with the mostess also used her acting skills for her Halloween creation from the movie The Birds. Her caption warns that 'there's something wrong with the birds'.
For her creativity and just for being Reece in all her smiley southern sweetness, we give her first place!

https://www.instagram.com/reel/CVqS6mTD9V4/