Fenty Skin is here, with three multi-tasking products
Fenty Skin's three product offering is a cleanser, toner-serum, and an SPF30 moisturizer
---
The official launch of Fenty Beauty is coming July 31 but many dedicated fans signed up for the early access waitlist that launched today. So far, the reviews have been fantastic.
"Fenty Skin is everything I wish I had," says Rihanna. "I wanted it to feel approachable, easy, and to take the pressure off choosing a routine, so I created one for everyone."
The three product range includes a cleanser, toner-serum, and an SPF30 moisturizer. Let's take a look.
Advertisement
First up, the packaging. It's made with earth-conscious, recyclable materials where possible, with post-consumer recycled materials and the ability to refill the moisturiser.
The range is fragranced with a warm, tropical, holiday scent of cherries, coconut, sun-kissed fig, and fresh desert melon, which is great for those who love their fragranced skincare but bad news for those few who might be sensitive to it. Each of the Fenty Skin products has a vegan and oil-free formula (and gluten-free, the brand states, if you were considering drinking a whole bottle but were concerned about your coeliac disease). It's also labelled as 'clean.' Let's save ourselves the time on that one by remembering that no skincare is dirty, and read what the experts have to say when it comes to beauty products labelled as 'clean'.
Now back to the ingredients, which are lovely; there's vitamin C-rich Barbados (Rihanna's home) cherry in all of the products, and other heavy hitters like hyaluronic acid and niacinamide. Of course, it wouldn't be Fenty without being inclusive, and the products have been tested on all skin tones, textures, and types.
There are just three multi-tasking products in this first drop, which RiRi calls the 'Fenty Skin Start'rs'. Are there more Fenty Skin products on the way? Surely, considering the hype already surrounding this range which has only launched. Let's take a look at what's inside.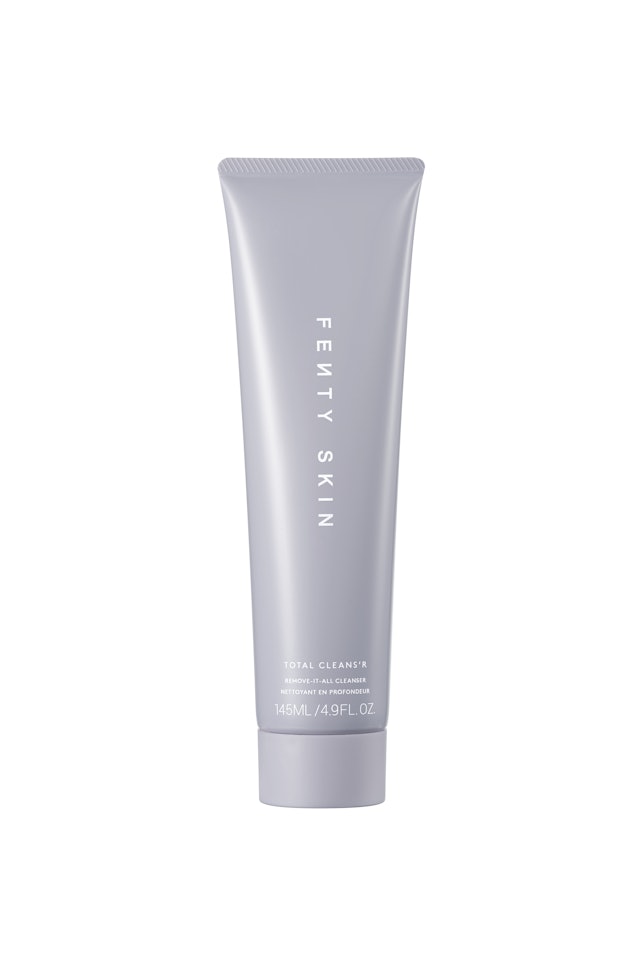 Fenty Skin Total Cleans'r Remove-It-All Cleanser, €22
The first step in the Fenty Skin Routine is the Total Cleans'r Remove-It-All Cleanser. It's a gel-to-cream daily cleanser that has a gentle and creamy, foamy lather when water and wet fingertips are added. It's not stripping on the skin and won't leave your skin dry.
Advertisement
Fenty Skin Fat Water Pore-Refining Toner Serum, €28
The next step is Fat Water Pore-Refining Toner Serum, €28. It's a toner-essence-serum hybrid is gel serum that is niacinamide heavy: a gold standard ingredient for pigmentation, fine lines, brightening, pore refining and skin texture issues, without stripping your skin.
Related: The Ordinary are releasing a €5 niacinamide powder to target your skin texture issues
Hydra Vizor Invisible Moisturizer Broad Spectrum SPF30 Sunscreen, €33, refill, €27
The last step in your Fenty Skin routine is the Hydra Vizor Moisturizer."Use every single day, no excuses," states RiRi's packaging, just in case you thought you might skip this essential step. Want your skin to shine bright like a diamond? Try wearing a high factor broad-spectrum every day for two weeks and watch it gleam. Rihanna knows this, which is why her SPF30 is so good. It's the product out of the three that has been the most hyped about on social media, which is incredible when you consider how few people consider daily sun protection an essential skincare step. This is oil-free, hydrating and lightweight with a slight pink tone to it that won't pill on the skin or give any flashback, and leaves a lit-from-within glow to the skin. Even better, you can refill your bottle when you're done with it.
Fenty Skin launches on July 31 exclusively at fentyskin.com.
Advertisement
Photography by Fenty Beauty.
Read more: Rihanna and the SS20 beauty trends want you to wear black lipstick
Read more: Shopping fix: Fenty Beauty's pathetically easy to use eyeliner
Read more: Tried and tested: the Fenty Beauty Full Frontal Mascara